---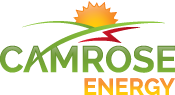 Our Service
Are you looking for service with the LOCAL ADVANTAGE? We aspire to give you the local small town service that Camrose is known for. We strive for the customer relationship where we say "HI" when we meet you out and about. You are not just another faceless number to us, we are neighbours.

Our Beliefs
Camrose Energy believes in providing stable and affordable electricity to Camrose and area as well as other Alberta communities. We historically have saved our customers 10-30% off the local default provider. We strive to help our customers to pay no more than they need to for the exact same product.
Our Guarantee
We guarantee we will not trick, pressure or manipulate you to become our customer. We will not be pounding on your door interrupting family time. We will help educate and inform you about your bills and the utility industry. In your own time you will discover that we are a GREAT LOCAL OPTION. If that time is now give us a call/text (780)781-4115.
Come see what some of our customers are saying about us: