2016 was an interesting year in the electricity industry.  As consumers, we enjoyed record low prices, but these low prices coupled with falling demand is not sustainable for power generators.
As you can see from the chart below, the Alberta power pool price is at an all-time low compared to the last 10 years.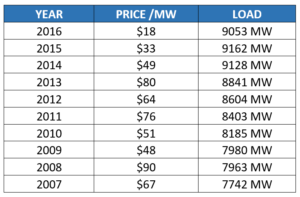 Chart: Average Yearly Pool Price
 
With the industry struggling, the government announced 4 major plans in 2016 that are going to change the natural gas market.
Switch to a Capacity Market
The government confirmed its plan to migrate from an energy-only market to a capacity market in 2021 (see our blog Capacity Market). The Alberta government's move to a capacity market is meant to encourage companies to finance a greener grid. The capacity market will pay companies for both the energy they produce and the energy the generator can produce. The dual revenue will help companies be more financially stable and invest in cleaner, renewable energy.
A Deal to End Coal-Fired Electricity
Alberta will pay three major power producers a combined $97 million a year to shutdown over the next 14 years. The money is meant to both help the 3 producers changeover to greener forms of energy and compensate for them shutting down their coal-fired electricity plants by 2030. Watch the Global News Report Here
$100 Million Investment in the Natural Gas and Renewable Energy Sectors
Economic Development Minister Deron Bilous said that almost $100 million will be used to expand development in clean energy, further environmental innovation, and consolidate natural gas assets. Watch the Global News Report Here
The Carbon Levy
The Alberta government announced that January 1, 2017 a carbon levy will take effect to generate revenue to reduce the emissions of greenhouse gases and support climate change initiatives.
What did you think about the natural gas market in 2016? Are you worried about the changes? Have you noticed any difference in the prices for your day-day-to-day purchases (groceries and gas)? Do you think the proposed rebates will help offset the costs?  We would love to hear from you.
For more information about your bill, contact Camrose Energy for a complimentary, no pressure bill analysis. We review your current bill and determine what you could have saved with Camrose Energy.
---
Take Our 8 Step Quiz To Help You Determine Where Your Home Is Losing Energy And How You Can Save Money